Boiler Service Checklist- What Needs To Be Done!
Millions of homes in the Uk have boilers for heating their homes. Unfortunately, they are often overseen and taken for granted that they just work without having any TLC. Let's face it, we all hate having to take our car to the garage for it's annual MOT wondering how much money it's going to cost you, right?
A boiler service is no different to the MOT. It is a vital part of your home maintenance plan that should be high up on your priority list. It should be seen as an investment and not an expense. In this guide, we will be going over:
What a boiler service is.
What needs to be done during a boiler service.
Why you need to have a boiler service done
What should a boiler service cost.
What Is A Boiler Service?
A boiler service is an annual check to ensure the safe operation of your boiler and that it is working efficiently.  All manufacturers stipulate that any boiler that is under warrant MUST have a boiler service annually or their warranty could be invalidated.
A boiler service can only be carried out by a Gas Safe Registered engineer. If you are a landlord or rent out your home as a holiday let, you must also have a gas safety certificate for all gas appliances as proof that the service is carried out by Gas Safe registered engineer.
Whether you are a landlord or homeowner, it is your responsibility to ensure the annual boiler service  is completed on time.  As per legislation, every landlord must have a record of boiler service and any other gas appliance check record in the form of Gas Safety Certificate (CP12 certificate).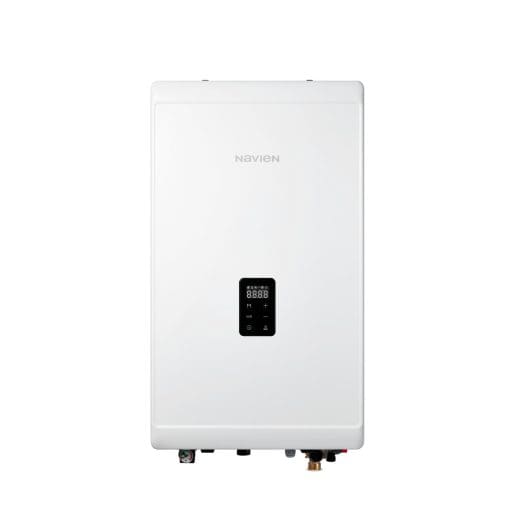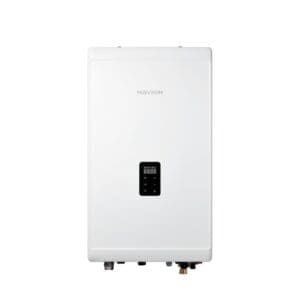 Boiler Service Checklist – What Needs To Be Done!
To begin with, a Gas Safe Registered engineer will do a visual  inspection of your boiler to ensure that their are no visible leaks around the boiler. He will also ensure that the heating controls are working properly and the hot water demand on the boiler is responding correctly.
He should then carry out a gas soundness check to ensure there are no gas leaks.
The engineer will remove the boiler's casing and check the main components of the boiler to make sure there are no leaks and they are operating correctly. He should check the spark electrodes and clean if necessary.
The condensate trap MUST be cleaned annually!
Once the engineer has done all his check with the boiler switched off, he will fire it up and do some checks with his gas flue analyser.
The engineer will make sure there are no obstructions or leaks in the flue. He will do this by placing a gas flue analyser into the flue test point which will be able to tell him if the boiler is burning correctly. If the readings are out, the engineer may need to clean out the heat exchanger.
A gas pressure check (gas rate)will be done to ensure that the boiler has the correct working pressure. If the gas pressure is low, your gas pipe could either have a blocked gas pipe or be undersized. If this is the case, you will need to instruct an engineer to have the gas pipe size increased to rectify this problem.
After the engineer has thoroughly examined the boiler and is satified with it's performance, he will sign off your service reoprt on your insallation manual(for the warranty) or if you are a landlord, he will provide you with a gas safety certificate.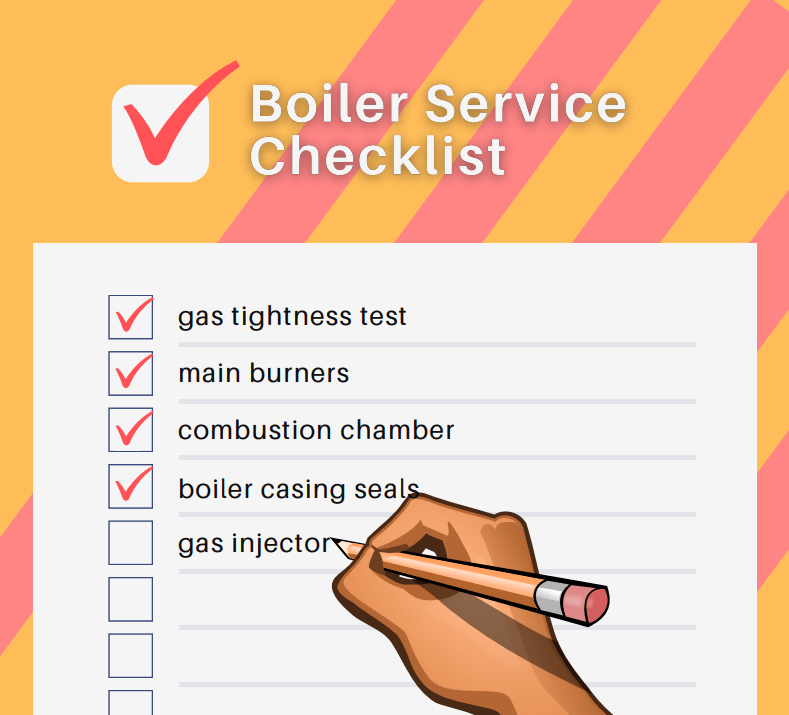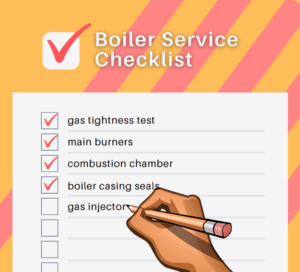 Why You Should Have Your Boiler Service Done?
While many people tend to ignore the importance of a boiler service, there are a number of reasons why you should have your boiler service completed annually:
Catch boiler problems early:
An annual boiler service lets you catch boiler problems early. You may not realize it but there might be some minor issue with your boiler.  By having a gas safe engineer to inspect your boiler regularly, will catch any minor issues before they become bigger and more expensive.
Boiler repairs are costly:
Post covid, like most things, boiler parts have become much more expensive. Depending on what part needs replaced and how old your boiler is, it might well be cheaper replacing it for a new energy efficient boiler.
To give you an idea how much boiler parts are, here is a list of the most important components and how much it would cost to replace them.
Circulating Pump: £250 – £350
Fan: £200 – £300
Main Circuit Board: £250 – £400
Diverter Valve:  £150 m- £250
Main Heat Exchanger: £400 – £600
As you can see from the cost of boiler repairs above, it is much cheaper maintaining your boiler on a regular basis than having to fork out hundreds of pounds for expensive repairs.
It might well be worth your while considering a boiler maintenance plan by paying low monthly fees and if your boiler breaks down, this will cover the cost of repairs. You also get a FREE boiler service each year if you choose a monthly plan.
Manufacturers Warranty:
If your boiler is still under warranty, it is a stipulation that you MUST have your boiler service completed annually to keep the warrany validated. It is the responsibility of the installer to inform you that you need to follow manufacturers stipulations on this.
Save £££ On A New Boiler!
If you have an old inefficient boiler that is providing you with around 65% efficiency, it could well be worth having it replaced with a new energy efficient (93%) condensing boiler. This could save you hundreds of £££ each year on energy bills. Click here for more  info on how you can save money.
How Much Is A Boiler Service?
This depends on a number of things. For example, if you live in a city it is much more likely to be cheaper, probably around £60 – £70. However, if you live in a rural location it is more likely going to be nearer £80 – £90.
Oil boiler services will be more expensive than gas boilers as tghere is much more work involved. An oil boiler service would cost aroun £100 – £150 depending on your location.
If you would like your boiler service done by us, please make an appointment by clicking on this link.
We hope you managed to get some value from this blog and would appreciate if you could share it with friends or family on your social media feed. Thank You!