Do You Want To Know HowTo Use A Room Thermostat?
Have you had a heating engineer install a room thermostat at your property but you weren't shown how to use it properly?

 If the answer to the above is yes, then you are at the right place reading this guide. There are so many various room thermostats on the market in the UK and they don't all work the same. So let's dive in and find out how to use a room thermostat correctly.

In this guide we will be showing you how:
A room thermostat works
How to set up a room thermostat
How much does a room thermostat cost
Why the room thermostat is not working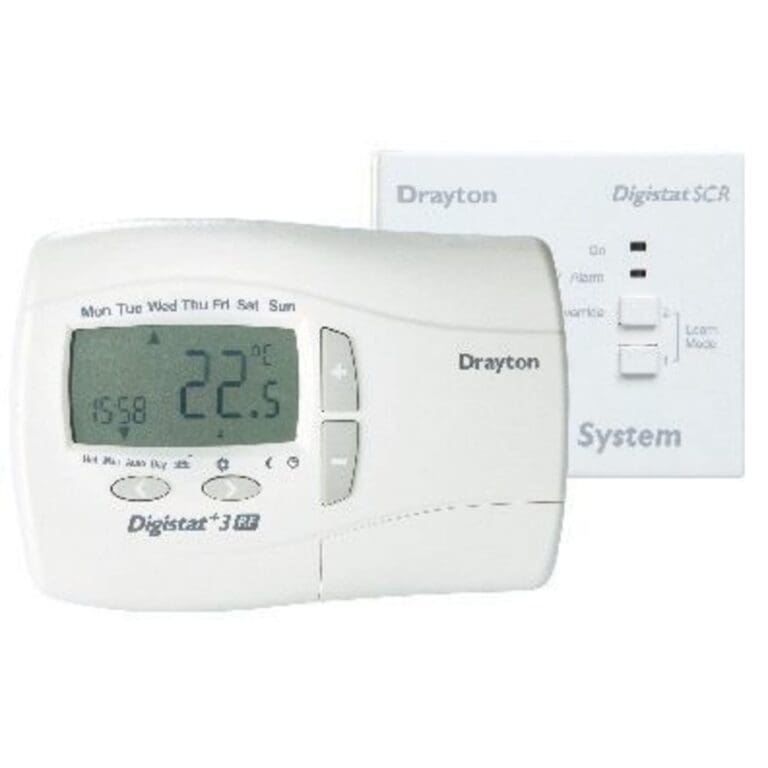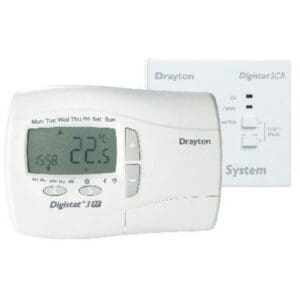 How Does A Room Thermostat Work?
A room thermostat monitors and maintains the temperature in your home. It works by turning your heating system on and off when the temperature changes inside your property.
For example, if the temperature falls below a certain level, the sensor inside the room thermostat is  programmed to activate the boiler's switch to turn the heating on. This in turn will heat up all the radiators in your home.
If the required heat setting has been reached for example 19c, it will turn off your central heating thermostat and allow your home to cool down to the appropriate level that was set.
You should set your room thermostat to the lowest comfortable temperature, which for most is between 17°C and 20°C.  For every degree you increase the room temperature, on the room thermostat, it will increase the heating bill by about 10%.
How To Use And Set Up A Room Thermostat
First of all a room thermostat should be installed away from doors, windows, and draughty areas. Keep it away from air vents and radiators as well and try to fit it on an interior wall  approximately 1.5 metres above ground level.
Room thermostat with a dial:
This type of room thermostat is most common in mechanical thermostats. To control it you simply turn the dial round to the temperature that you would like to reach. On most types of dial thermostats you would usually hear a click when you alter the temperature up or down. This indicates that the thermostat is working correctly.
Non programmable room thermostat:
A digital room thermostat operates similarly to a dial thermostat. Rather than turning the dial, you would press the buttons up or down and will see the temperature change on the digital screen.  On some thermostats you can pull down the front flap to reveal further controls.
The picture below is a honeywell  DT90e that has an eco button(green button).  It allows the temperature to be set to a lower value
for several hours to save energy. The energy saving temperature has normally been pre-set to 18°C.
To operate the ECO energy saving press the green ECO button. You can then set the number of hours at this energy saving and the word ECO will show. To turn off the ECO energy saving press the green ECO button again and eco will dissapear.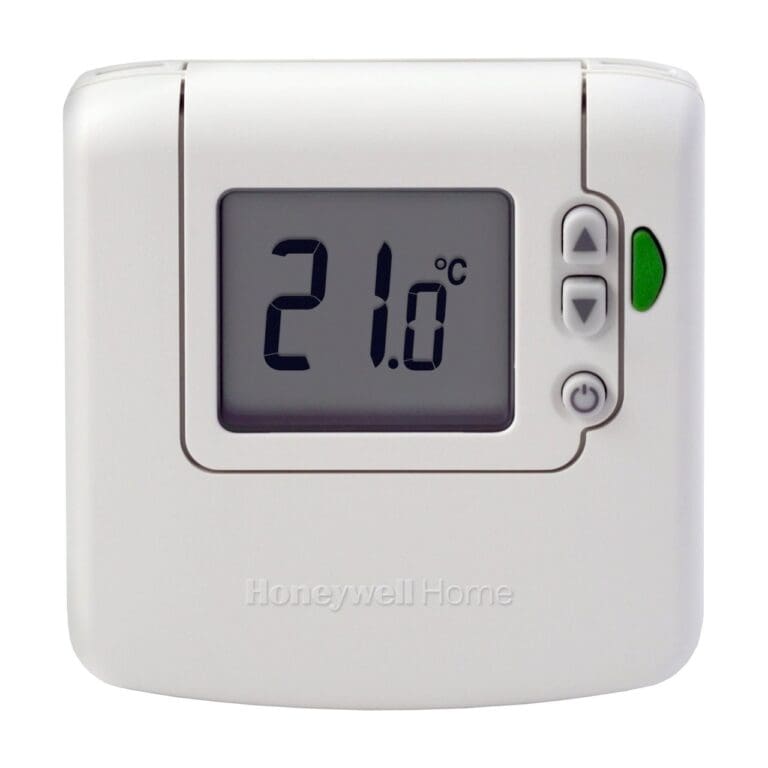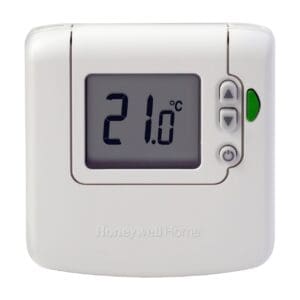 Programmable room thermostat:
It's very similar to the non programmable thermostat, however, the programmable version has some more features. It can be set for various days for example 5/2 or a 7 day cycle. Most programmable room thermostats have 3 different options to set the heating to come on at different times of the day.
For example:
Early morning temperature is set to come on before you wake up to give the heating a  chance to reach temperature
Set it to go on around 6am and to go off around 8am just before you head out for work. Set it to around 20c.
Set it to drop to 17c or so throughout the day when you are at work. The temperature will not drop below this value!
Before you get home, set it to come back on again around 4pm. Depending on circumstances ie how cold you get, keep it on until just before you go to bed. Alternatively, you can have it on for an hour or so after you get home then drop the temperature back down to 17c.
These times are not setting stone, they are just an example of the options you have depending on how cold you get. Some people don't like it too hot in the house so you could set it to come on to 18c and go off at 16c at various times throughout the day.
The most important factor is NOT to allow the temperature in your home to drop too low as it will take much longer to heat up, which will cost more in gas.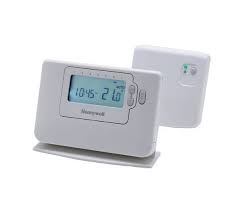 How Much Does A Room Thermostat Cost?
Obviously this will differ depending on which make and model you choose to purchase. However, here is a rough estimate how much you should pay for a new thermostat.
Dial Thermostat: Anywhere from around £15 to £50
Non Programmable Digital Thermostat: Anywhere from £30 to £70
Programmable Thermostat: Around £40 to £80
To have a single room thermostat installed by a heating engineer would vary from around £140 to £180. This would include the thermostat that was to be installed. Should you require multiple thermostats the price would obviously increase substancially. If you need a quote for a new room thermostat, click here.
Why Is My Room Thermostat Not Working?
There are a few reasons why this would happen but here are some of the most common problems that you may encounter with your thermostat:
Dead Batteries:
Simple, a dead battery means a dead thermostat. Wireless thermostats are battery operated, so it might be worth keeping a spare pack of batteries in a drawer somewhere. Batteries generally last anywhere from 12 to 18 months. You normally get a low battery warning light come on so check that first.
Wiring Issue:
It might well be that there is a wiring issue. If the screen has gone blank you will need to contact a local heating engineer.
Incorrcct Termperature Reading:
This inconvenience can be caused by a few things, but most likely it could be the temperature sensor within the thermostat is faulty and may need to be replaced.
Reset:
All thermostats are different and have their own unique way of working but sometimes a quick reset can do the trick. If you have a standard thermostat, it may be as easy as finding the reset button and pressing it.
Another way of sometimes solving the problem is by simply turning the thermostat off for a minute then back on again.
We hope that you got some valuable information from this blog and should you wish to have a new room thermostat installed by us, please contact us. Feel free to share this with your friends on social media if you think itg might help.