6 Great Reasons Why Boiler Service Is Important
A boiler service is an integral part of any home maintenance plan but it is quite often overlooked. It is not until the boiler breaks down that a homeowner realises that it could be an expensive fix.
Did you know that approximately 20% of all boilers in the UK don't breakdown because of their age but due to a lack of maintenance. In this blog, we are going to show you why a boiler service is important.
How often should you service your boiler?
You should have a boiler service done annually and it must be completed by a Gas Safe Registered engineer. Ideally you should have the boiler service done in the summer months as this is the less busy time of the year for Gas safe registered engineers. If you choose to have it done in the winter, you might struggle to find an engineer as they are often busy with boiler breakdowns in the winter.
Tip: Don't make the mistake of turning the heating off altogether in the summer months as this could cause the diverter valve inside the boiler to stick and leave you no heating when you turn it back on again when it gets cold.
How long does a boiler service take?
A boiler service usually takes between 45 minutes to an hour depending on the appliance. Your Gas Safe engineer should follow manufacturer's instructions procedures for your boiler.
What happens during a boiler service?
Your Gas Safe registered engineer will conduct various checks to endure that your boiler is operating correctly and burning optimally to help reduce the gas bill. They may need to clean out certain components and or replace parts.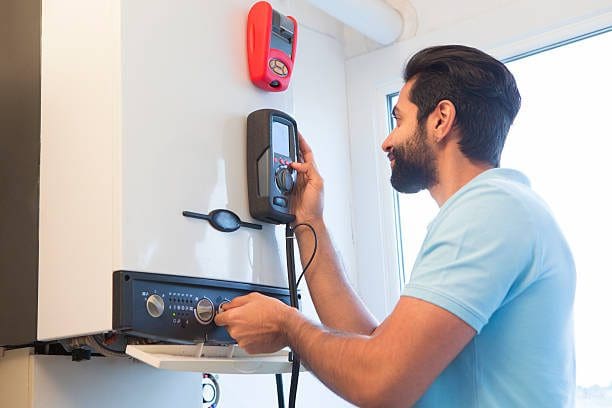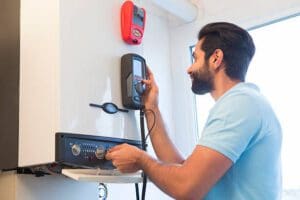 Now here are the 6 reasons why you should service your boiler annually:
1: Landlords/Holiday Homeowners
It is a legal requirement for landlords and holiday home owners. If you are either of the two, it is a legal requirement and you need to be able to present a gas safety certificate. This must be renewed every 12 months and would be a great time to get the boiler service done to ensure that you have peace of mind that your tenants or guests are safe.
With having an annual a boiler service, you are being proactive to help reduce the chance of faults or potential bigger issues that could occur. The small expense of a boiler service can help to save from a significant cost of an expensive repair.
2: Catch Problems Early
You can catch boiler problems early when you choose to service your boiler annually. The engineer will be able to identify any issues that could cause future costly repairs. Smaller issues quite often lead to bigger and more costly repairs that could lead to a safety issue. For this reason alone, it is well worth getting your boiler serviced annually!
3: Warranty
If your boiler is still in warranty then you must ensure that it is serviced annually by a Gas Safe engineer. You need to keep your installation manual in a safe place as the engineer will need to enter his name and company details into the service record for proof that your boiler has been serviced regularly whilst in warranty. Boiler manufacturers offer various warranties from 2 years all the way up to 15 years. Checkout the this link to give you an idea of what different warranties are available.
If you experience any faults or issues with your boiler within the warranty, the parts that may need to be replaced will be free of charge to you.
4: Keep You Safe
One of the most important reasons for a boiler service is that it helps to keep you and your family safe. As your boiler burns gas, appliance it could release carbon monoxide which is poisonous.
Carbon Monoxide is tasteless, colourless and odourless which means it is difficult to detect and people may not recognise its presence.
For this reason, it is critical that you service the boiler regularly. It will give you peace of mind that you and everyone in the home are safe.
5:  Cheaper Than Replacing Your Boiler
Many homeowners believe that getting a boiler service is expensive but that is incorrect. The cost of the service could often be less than a weekly shop to the supermarket, especially at today's grocery prices.
A typical boiler service costs anywhere between £70 to £100 depending on the location and what appliance you have. If you choose not to have the service done regularly and the boiler breaks down and gets condemned by the gas engineer attending your property, you stand to pay a lot more than having the boiler serviced annually.
A boiler service should be part of the annual maintenance plan and is more likely to keep your boiler running properly. A well-maintained boiler is more likely to last longer than a boiler that hasn't been serviced. It is certainly much cheaper than having to replace the boiler. A new boiler can cost you anywhere from £1500 upto over £3000 depending on what make and model you choose.
6: Prolong The Lifespan
If you have your boiler serviced regularly, it is more likely to prolong the lifespan of the boiler as opposed to a poorly maintained boiler.
As the boiler gets older, it becomes less energy efficient. Replacing the boiler is costly so you want to ensure that you get the most out of your investment by maintaining it regularly. The average lifespan of a well-maintained boiler is around 15 to 20 years.
On the other side, a poorly maintained boiler may have to be replaced after only a few years due to faulty parts or sludge in your components.
Conclusion
So, as you can see a boiler service is really worth thinking about and can be compared with your car's annual service. If a car service is neglected for a while, that's when the faults start to creep in. A boiler service is very similar. If you think that you need your boiler serviced, you can checkout our website as there is more information on there regarding boiler servicing. Dont' wait before it's too late!
To find out more about boiler servicing or for any other questions about your gas boiler, get in touch with us here.