Can I Really Save Upto 30% On Energy Bills
Smart Thermostats: Is it hype or can they really save you money?
Your boiler thermostat controls around 60% of your energy bill, and with the ever-increasing cost of gas prices, installing a smart thermostat has been more important than ever.  However, can you really save up to 30% on your energy bills, or is it just an advertising gimmick?
Read on and find out!
Google Nest Smart Thermostat
Undoubtably a very popular choice for many homeowners in the UK and the most expensive gadget as well.  It will set you back around £200 for the purchase and also the labour charge for a heating engineer to install it.  You should have a professional install the smart thermostat.
How does it work and Is it worth it?
The Nest thermostat never stops learning from you. It studies your routine, daily and weekly as well as your set schedules and adjusts automatically to set your home to the correct temperature.
It also considers the internal insulation of the house as well as the outside temperature and uses this data to adjust the temperature.
Not only does it learn from your routines and habits, but it also creates a unique schedule personally for your home.  How Smart is that!
The Nest is easy to use and set up.  It is fully compatible with Google Assistant which enables you to talk to Alexa and say "Alexa, turn the heating up to 22 celcius please".
Google claims that the Nest thermostat will save you from 8.4 to 16.5% but this very much depends on certain factors such as, is the house insulated and how much is the heating used.
If my home is 200 years old and has no insulation, the heat would go straight out of the walls.  Similarly, if my annual energy consumption is much lower that the estimated useage, I will not save as much.
Overall, the Nest is a very intelligent device and could save you money if you have the right insulation in your home.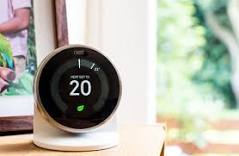 Honeywell T6 Smart Thermostat
This Smart thermostat is more cost effective than the Nest but does't offer as may functions.  Prices vary but you can get the Honeywell for around £150 compared to it's more expensive rival.  The Nest has a more sleek desingn and has a better ability through the learning stage.
Honeywell has kept things simple  by implementing three modes for heating: Home, Away and Sleep.  The idea is that you have one temperature when you are at home, one when you are away and one for when you go to sleep.  You can set up the times at which the sleep settings apply through the app.
Geofencing:  You can control your heating anywhere via Smart phone or tablet as long as there is Wi-Fi available.
The home app takes care of everything at home using your Smart phone location to determine when you're home or away. Saving energy when you're away, ensuring the temperature is just right when you return.
You can create your own 7-day schedule that will suit your routine.  If you need to change the routine, this can easily be done through the Honeywell App and changing the schedule.
Don't forget that for each degree that you reduce the temperature in your home, you will save 1% of energy over an 8 hour period.  When there is nobody home, the temperature could be turned down slighhtly to reduce costs.
The Lyric T6 has a built-in support for the Apple Homekit, which allows you to control all of your smart devices through your iPhone and iPad using the Home app, or with voice-control using Siri. It is also compatible with Google Home and Amazon Alexa.
The Honeywell, like the Nest, is a very smart device that if set up properly can no doubt save you money on your energy bills.  There isn't much in it between the two – it comes down to personal preference.  If you need a professional to install it, click here.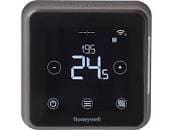 Hive Smart Thermostat

Hive Heating was launched in 2013 in the UK and more that 2 million homeowners now have a Hive Smart thermostat installed in their homes. The cost is similar to the Honeywell Lyric T6, around £150.  Being such a popular smart thermostat, what are it's benefits?
The Hive offers a way to regulate your home's heating parallel to your daily schedule. Just like with the Nest or Honeywell, it can be controlled on your mobile phone via the Hive app.
Here are the advantages of Hive Smart thermostat:
Straightforward installation
Wireless but can also be mounted on a stand
Heating adjusts to daily schedule set up in app
Location detection will send you a reminder to turn heating off when you're out
Frost protection activates when temp' drops below 7 degrees Celsius (this will ensure that pipes will not freeze)
Control from anywhere using the Hive app
Compatible with virtual assistants such as Amazon Alexa and Google Home
How Does The Hive Work?
It detects the temperature of your rooms and relays instructions to your boiler to heat up water.  Then the water distributed through your central heating system to warm your radiators and increase the temperature of your rooms accordingly.  You are also able to control your central heating using any device.  For example, if you are away from home and it is cold outside, you can adjust the temperature from the app to raise the temperature in your home for your return.  The Hive comes with three pieces of equipment:  A thermostat, hub and a receiver.  Your Hive hub must  to be connected to broadband in order for it to work.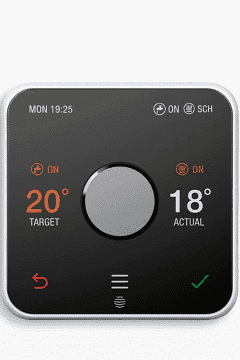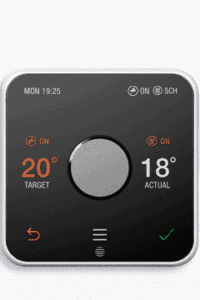 Conclusion
We hope that you got some valuable information from this blog and, as you can see, all three Smart thermostats offer good value and have similar features.  They all have Smart capabilities to help improve the way we heat our homes in the UK, so that alone would indicate that you will save money over a number of years.
Would it be as much as the manufacturers are saying?  Possibly, but there are a few factors that would all need to be in place.
If your home is not well insulated, heat goes out the walls. If your annual consumption is lower than the estimated amount we use in the UK, this would also have to be taken into account.  The cost of your purchase plus the installation of the Smart thermostat would also need to be taken into account.
If you do choose to have a Smart thermostat to control your heating, please do some research here before deciding which one is right for you.  If you would like a Smart thermostat installed, we at Letsgo TNT Gas & Heating can advise.